CHOOSE & CUT CHRISTMAS TREES:
This year, we have 5-7-foot tall Blue Spruce, Doug Firs, and Scotch Pines out in the field, ready to cut. The Blue Spruce and Doug Firs are $13 per foot. The Scotch Pines are $10 per foot. (Prices discounted for less perfect trees. Prices range from $42 to $96.) You can go out into the field, choose your own tree, and cut it down with the saws we provide. You will be sure to get a really FRESH tree! You can also choose a tree, tag it, pay for it, and then come cut it down later at your convenience, closer to Christmas.
A Blue Spruce and a Scotch Pine

PRE-CUT CHRISTMAS TREES: NOBLE FIR AND FRASER FIR:
If you want something other than what we grow, we have 5 to 8 foot pre-cut trees for sale. These are plantation grown Douglas, Noble and Fraser fir trees from farms in North Carolina and Oregon. We cannot grow Frasers and Nobles s in Boulder. They are real beauties! Prices unknown currently, coming soon.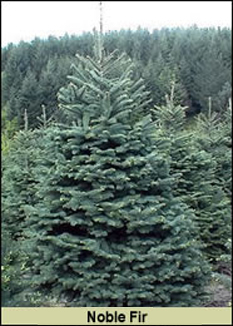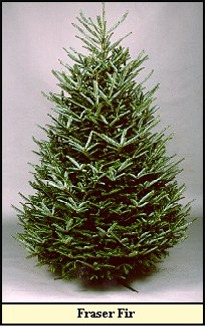 LIVE POTTED CHRISTMAS TREES: NONE AVAILABLE THIS YEAR. SORRY.
We also sell small potted live trees that you can bring into your home for Christmas, and then plant out later into your yard. We have Blue Spruce in pots. These trees are Boulder-grown and have survived our rigorous climate. Please be aware that you can keep a potted tree in your home for one week ONLY , and then you must take it back outside if you want it to live through the winter. You must also water your potted tree frequently until you are able to plant it.